As the temperature drops and chilly winter winds take over the hot sunny days, it's time to revamp your fashion wardrobe. Let's turn the page on your wardrobe and welcome the winter season with open arms. But why just embrace it when you can conquer it? Welcome to SHOP ONE's world of Whimsical Winter fashion where style meets warmth, and comfort meets class. We're thrilled to introduce our latest winter collection for men, where each piece of clothing is carefully curated to transform your winter look from ordinary to extraordinary.
Why make a choice between style and coziness when you can have both? Our men's winter clothes offer an extensive range of styles that keep you warm without compromising on your unique style. From layered looks that exude sophistication to minimalist styles that make a statement, our collection covers all your winter fashion needs. 
Layer up for ultimate perfection 
Nothing keeps you warm like classy jackets and cozy men's sweaters. When the winter chill descends and the winter wind nips at your skin, it's time to layer up in style. Our exclusive collection of warm jackets for men ensures you not only stay toasty but look effortlessly cool. Whether you're navigating the outdoors or revving up your bike, our classic leather jackets, rugged biker jackets and stylish puffer jackets can be your trusted companions. This season, let your outerwear do the talking as you layer up for perfection. Stay warm, and stay stylish with SHOP ONE– that's the jacket way! 
Keeping this in mind, we have curated an exclusive collection of the best winter jackets for men. Let's dive deep and explore what we have in store for you: 
Live the Denim Dream 
Denim jackets are a timeless classic that never goes out of style. These rugged yet effortlessly cool staples have been a favourite for generations, and it's not hard to see why. Denim is like a fine wine – it only gets better with time. When you don a denim jacket, you automatically turn your ordinary look into something sophisticated. Denim's versatility knows no bounds. Whether you're dressing up for a night out or keeping it casual for a weekend adventure, your denim jacket is a trusted companion. Pair it with your favourite tee and jeans for an all-denim look that's ruggedly stylish. You can throw it over a crisp white shirt and chinos for an effortlessly sophisticated outlook. Each time you put on your denim jacket, you're making a timeless statement. 
Our latest collection offers men's winter fashion denim jackets in styles you would love to embrace. Check these out now: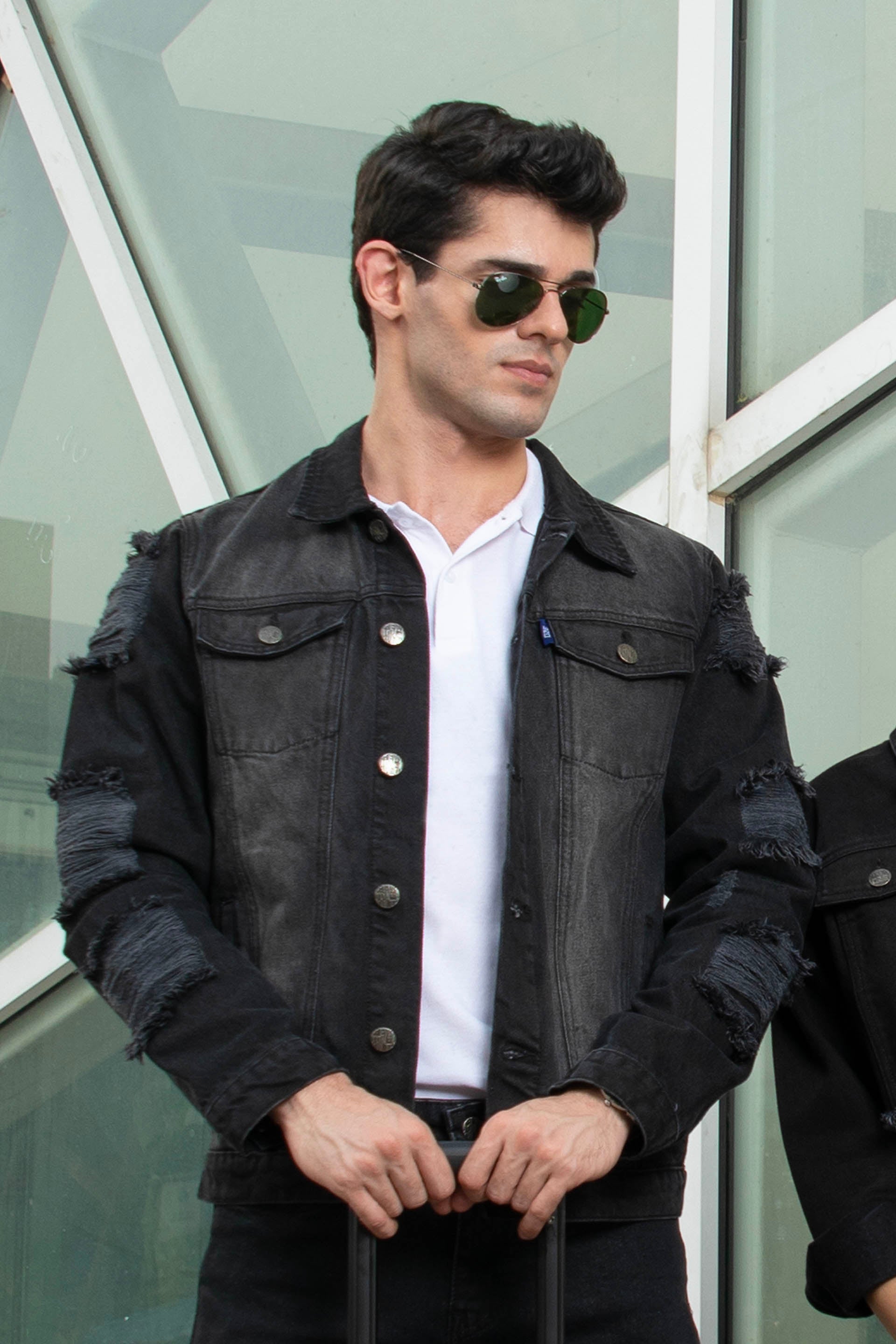 Say it all with Leather 
How can a single layer of outerwear, a men's leather jacket demand so much attention? Give it a thought. Rugged masculinity, classic edgy style and rebellious unreachability – leather jackets suit almost any style, attitude and expression. When in doubt, top it off with a timeless leather jacket from our exclusive collection. 
When it comes to embracing an edgy appeal and making a bold style statement, there's nothing quite like a leather jacket. The charm of our men's leather jackets lies in their innate ability to make you feel like a total badass. Slip into one, and you're instantly transformed. The rugged texture, sleek finish, and unmistakable scent of genuine leather create an aura of confidence and charisma that few other pieces of clothing can match. But a leather jacket isn't just for the rebel in you; it's a versatile piece that you can style up any way you like. For a night out with friends, pair it with a crisp white shirt and tailored jogger pants, and you're ready to turn heads. Want to keep it casual? Throw it over your favourite graphic tee and jeans. Leather jackets are like a blank canvas – you decide your vibe! With a leather jacket, you're not just wearing a garment; you're embracing an attitude and a legacy of timeless coolness. Explore our collection of men's leather jackets today.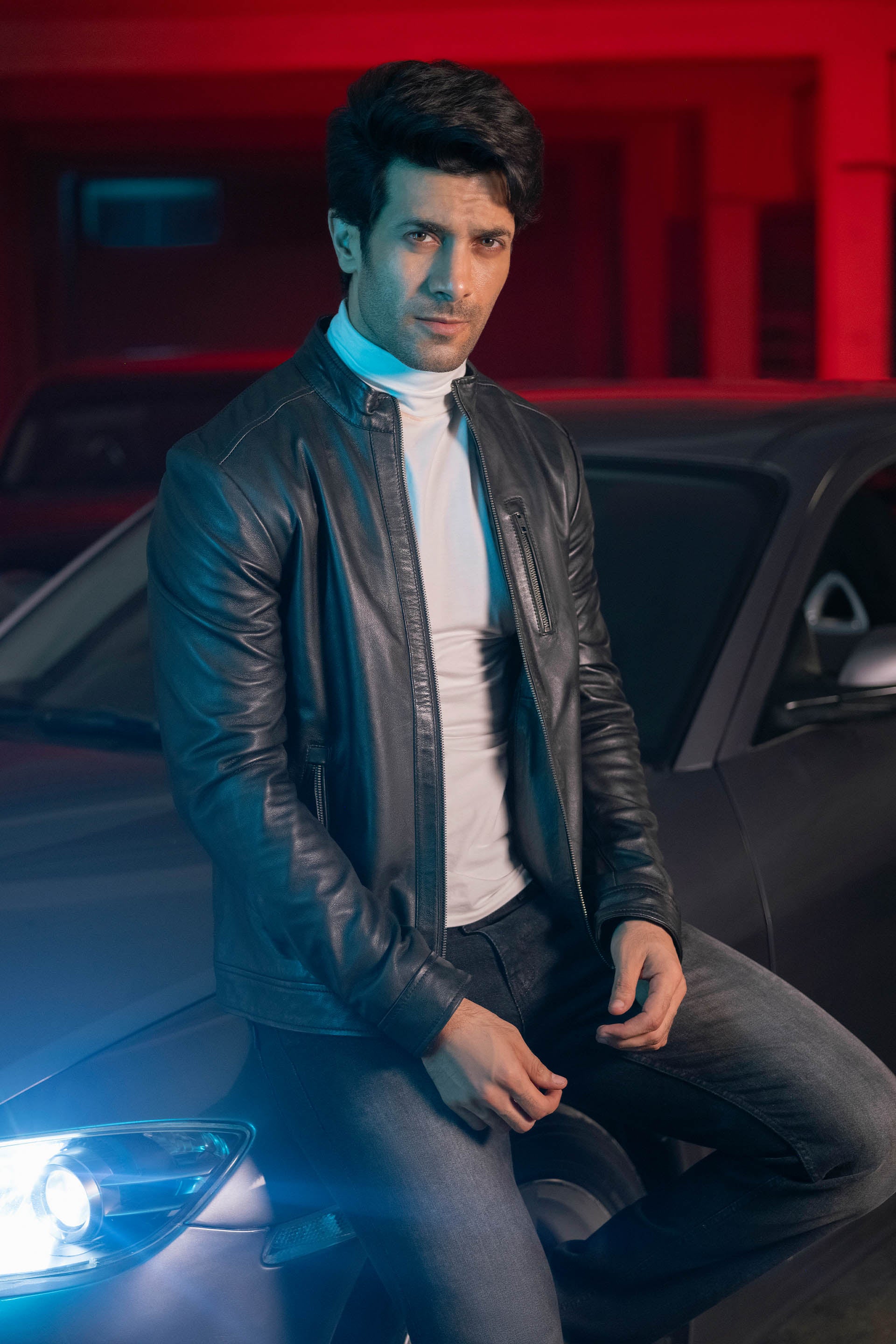 The Perfect Sweater Season 
If you aren't a fan of jackets, it's time you take a sneak peek into yet another equally fashionable option in winter outfits for men. Knitted sweaters are a wardrobe essential that you can't do without. Made from close-knitted fibres that add an extra layer of warmth, winter sweaters for men are like a bear hug on a chilly winter morning. Knitted sweaters are a timeless classic in the world of winter fashion. They effortlessly bridge the gap between comfort and elegance. The intricate knit patterns and fine craftsmanship that go into our knitted sweaters elevate your style like never before. You can pair them with your favourite denim for a relaxed weekend outing or layer them over a crisp shirt for a smart-casual semi-formal look. So, when winter arrives, make sure you stock up on our elegant sweaters for men. With their enduring charm and ability to keep you warm, you'll find yourself reaching for them season after season. Here are a few options that you just can't miss out on! 
Embrace the Winter with ONE 
Looking for durably, elegant men's winter fashion? Look no further than our exclusive range of perfectly-tailored impeccable styles that everyone can embrace. Whether you are looking for stylish puffer jackets or stylish zipper sweaters you can count on us to give you a stare-worthy look winter look. 
So what are you waiting for? Dig deeper into our winter collection for men and shop till you drop with SHOP ONE!